Superior Select Female Auction
Nov. 15, 2018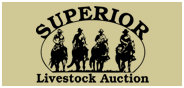 SUPERIOR LIVESTOCK SELECT SALE

~~~  Offering 2,600 Head  ~~~

Thursday, NOVEMBER 15TH
Auction Time: FOLLOWING THE SLA VIDEO AUCTION

Dish Network ~ Channel 232
Directv ~ Channel 603

BROADCAST LIVE FROM THE 
SUPERIOR LIVESTOCK OFFICE & STUDIO
IN THE HISTORIC FORT WORTH STOCKYARDS
FORT WORTH, TX

IF YOU WOULD LIKE THE ESTIMATED TIME A LOT WILL SELL OR TO PREVIEW THE VIDEO ON A SPECIFIC LOT VISIT OUR WEBSITE @ www.superiorlivestock.com
OR CALL 8OO~422~2117.
Click here
to view the catalog on our site.
Click here
to view the auction on Click to Bid
Please call Superior Livestock at 800.422.2117 and register for your Buyer Number today.
Click here to find a rep near you.
Click here to register for a buyer's number.