B and B Dairy LLC
Mon Sep. 24, 2012 12:00 PM Mountain in Rupert, ID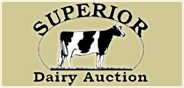 B and B Dairy selling Holstein Cows and Heifers
B and B Dairy LLC selling 650 Holstein cows, 250 Holstein heifers short bred to springing. Cows bred to top 10% Semex bulls and all heifers bred to low birth weight Semex bulls. Everything 100% AI Bred. -No BST and 2X- Don't miss this rare opportunity to buy from a closed herd!
Click here to view auction on ClickToBid
Click here to view our video catalog
Please call Superior Productions at 800.431.4452 and register for your Buyer Number today.
External Links