44 Farms
Sat Oct. 27, 2012 12:00 PM Central in Cameron, TX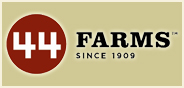 44 Farms Fall Bull and Female Production Sale
From Cameron, Texas, '44 Farms Fall Bull and Female Production Sale' will offer 15 featured Angus Female lots, 220 Registered Angus bulls and 250 Commercial and Registered females.
This high profile sale is broadcasting on Rural TV, Dish Network channel 232 and 'superiorclicktobid.com'.
Click here to view auction on ClickToBid
Click here to view our video catalog
Please call Superior Productions at 800.431.4452 and register for your Buyer Number today.