Express Ranches Big Event Sale
Thu Aug. 25, 2011 10:00 AM Central in Yukon, OK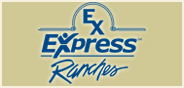 Express Ranches "Big Event" Sale
Superior Livestock and Express Influenced Commerical Female Sale and 'The Big Event Sale' from Express. A 2 day event being held August 24th and 25th. Starting off at 12:00pm Central with Superior Livestock/Express Influenced stockers, feeders and bred stock, followed by fall bred cows and 3 in 1 pairs. The next day begins at 10am Central and will be offering 500 Registered Angus Females from the Heart of the Herd in their 16th Annual Production Sale.
Click here to view auction on ClickToBid
Click here to view our video catalog
Please call Superior Productions at 800.431.4452 and register for your Buyer Number today.