Great Lakes Beef Connection
Sat Mar. 10, 2012 11:00 AM Eastern in Clare, MI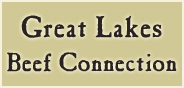 Great Lakes Beef Connection Bull Sale
Great Lakes Beef Connection Bull Sale. From Clare Michigan, join three select breeders-J Bar J Ranch Inc.,Salinas Farms and J/C Simmentals for a great offering of SimAngus and Simmental Bulls.
Click here to view auction on ClickToBid
Click here to view our video catalog
Please call Superior Productions at 800.431.4452 and register for your Buyer Number today.