Pharo Cattle Company (Ch.998)
Mon Apr. 16, 2018 01:00 PM Mountain
Burlington, CO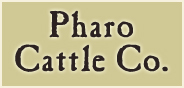 Offering over 200 Angus and Red Angus bulls developed without grain.
Click here to view auction on ClickToBid
Click here to view our video catalog
Please call Superior Productions at 800.431.4452 and register for your Buyer Number today.