Bradley 3 Ranch Focused on the Future 2017 Heifer Sale
Fri Jul. 28, 2017 10:00 am Central
Estelline, TX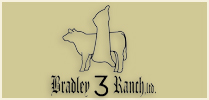 Selling 60+ Angus and Charolais heifers. Catalog available early July.
Click here to view auction on ClickToBid
Click here to view our video catalog
Please call Superior Productions at 800.431.4452 and register for your Buyer Number today.