44 Farms' The Female Sale
Sat May. 13, 2017 11:00 AM Central
Cameron, TX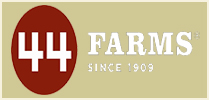 Selling 200 lots from the very top of the 44 Farms program.
Click here to view auction on ClickToBid
Click here to view our video catalog
Please call Superior Productions at 800.431.4452 and register for your Buyer Number today.