Superior Spring Horse Auction
Sat Jun. 10, 2017 12:30 PM Central
Ft. Worth, TX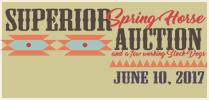 Superior is now accepting consignments for the Spring Horse Auction! We're very excited to invite top-end performance horses raised and trained by Superior Productions and Superior Livestock ranches, employees, representatives and friends. The Superior Horse Sale will be showcased on The American Rancher, Superior Sunrise, Superior Livestock Auction/Productions Facebook page, YouTube and online at www.superiorlivestock.com. The sale will be held on Saturday, June 10th at the Superior Livestock Auction Studio in the Historic Fort Worth Stockyards and broadcast on network television. As always, we encourage you to put your best horse forward for this special offering!
Click here to view auction on ClickToBid
Click here to view our video catalog
Please call Superior Productions at 800.431.4452 and register for your Buyer Number today.