Welcome to Superior Livestock!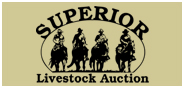 Jul. 01, 2016 8:00 AM Central Time
View catalog
|
View Supplements
To bid online for this auction, click here.
To just watch this auction online, click here.
Superior Livestock Auction
July 1, 2016
Broadcast Live From
Superior Livestock Auction's Studio
Located in the Fort Worth Stockyards
&
RURAL TV - DISH Network Channel 232
Superior Sunrise @ 7:30 A.M. (CDT)
Video Auction @ 8:00 A.M. (CDT)
***Offering 17,500 Head***
2,200 Holsteins
3,200 Yearling Steers - 2,250 Yearling Heifers
4,275 Weaned Calves - 5,350 Calves on Cows
225 Bred Stock
Holsteins 4715 - 4731
Region 3/4/5/6 Feeder Steers 4732 - 4763
Region 3/4/5/6 Feeder Heifers 4764 - 4785
Region 3/4/5/6 Weaned Calves 4786 - 4818
Region 3/4/5/6 Calves on Cows 4819 - 4827
Florida Calves 4828 - 4864
Bred Stock 4865 - 4869
You can watch our auction on SUPERIORLIVESTOCK.COM & SUPERIORCLICKTOBID.COM
For More Information or to get Registered for a Buyer's Number
Please Call 1-800-422-2117
Welcome to Steamboat Springs, Colorado for the Superior Livestock Auction "Week in the Rockies". The Red Angus Association of America has been a proud sponsor of this event for more than six years. Ranchers, cattle feeders and beef industry groups will gather as more than 260,000 head of cattle will be offered for sale beginning July 11th.
Each year hundreds of ranchers market their cattle with Superior and Red Angus is proud to be a genetic supplier for so many ranchers. Third party research has verified what many cattlemen have already recognized; there is real value when you identify Red Angus calves in the marketplace. You've helped identify the Red Angus replacement heifer as the most favored female. She will help boost your bottom line, and improve your return on this important genetic investment.
Red Angus-sired calves, and be sure to watch for those calves with the distinctive FCCP yellow tag as they are verified to be 50% Red Angus, have the ability to deliver improved conversion that shortens the number of days on feed, all the while delivering high quality grades and improved carcass yields that will qualify for premiums. Qualified Red Angus calves are now being welcomed into Top Dollar Angus.
Thank you for joining us as Red Angus sponsors Superiors' stretch of summer video sales starting here at the Week in the Rockies in Steamboat Springs, Colorado, moving on to the high desert in Winnemucca, Nevada for Video Royale and ending the season with the Big Horn Classic in historic Sheridan, Wyoming.
Superior Livestock Auction & Buddy Jeffers Memorial Scholarship
It's that time of year again!
The Buddy Jeffers Memorial Scholarship and Superior Livestock Auction have come together to offer a combined scholarship of $6,000 to a graduating child/grandchild of a Superior customer or Superior Representative
This Year's Topic:
Over the past decade the export markets have become an important factor in U.S. beef demand and overall price. Many developing countries in areas such as Asia, Africa, Central America, and South America rarely consumed beef in the past. The demand for beef increases every year as their economies continue to grow and citizens have an opportunity to purchase it. How can we, as producers, keep U.S. beef the most desired protein and standard for quality and flavor in the world protein markets? What factors would make our product more appealing? What are the prominent potential obstacles to the beef export market and how can those obstacles be addressed/overcome?
Deadline: July 1, 2016
APPLICATION: Click here
GUIDELINES: Click here
Applications should also include a recent professional photograph (photo-copies not acceptable), a certified copy of your current transcript, one to three letters of recommendation and a letter of intent. The letter of intent should include information on the current and planned studies, career goals and interests.
Visit the Buddy Jeffers Scholarship website at http://www.buddyjeffersscholarship.com/Rules.html.
Superior Livestock Auction implemented a 2 Way Slide effective March 1, 2016. All cattle will be sold on a sliding scale with a one of the following slides as described below (click to enlarge).
Superior Livestock is bringing you the most current trends in the fashion world. We have the latest and greatest apparel that will make any outfit. From caps to jackets and vests or that warm pair of gloves, you can find exactly what you're looking for. In need of a great gift or just want something for yourself? Look no further than our Superior Livestock Store.
NEW ITEMS HAVE ARRIVED-GO CHECK THEM OUT!
Here's a helpful link that provides instructions for getting Rural TV.
As always, if you have any questions, feel free to call the Fort Worth office at 800.422.2117.
For over 25 years, Superior Livestock has been committed to making it easy for buyers and sellers to come together. With the introduction of this online bidding portal, we have made it even easier for buyers to participate in an auction. For more information, go to http://www.superiorclicktobid.com.