Welcome to Superior Livestock!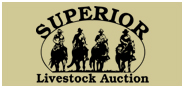 Mar. 21, 2019 8:00 AM Central Time
View catalog
|
View Supplements
To bid online for this auction, click here.
To just watch this auction online, click here.
Dec 16, 2011
FORT WORTH, TEXAS...Over 25,700 head of calves, feeder cattle and breeding stock
were offered here December 16 during Superior's regularly scheduled video cattle auction.
Broadcast live from their office and studio, the auction had producers from 20 states consign 17% steer calves 0-590 lbs.; 21% heifer calves 375-590 lbs.;
29% feeder steers 580-900 lbs.; 22% feeder heifers 580-930 lbs. and 12% breeding stock.
Cattle sold on contract to deliver immediately through the end of May.


All Regions
Sex
Weight Range
Price Range
Cows
$850.00-$1650.00
Pairs
$1335.00-$1335.00
Bred Heifers
$1225.00-$1450.00

Region 1
Sex
Weight Range
Price Range
Steers
420-420
$194.00-$194.00
535-535
$157.00-$157.00
620-640
$139.00-$150.00
675-675
$149.00-$149.00
700-725
$138.00-$140.00
Heifers
400-400
$170.00-$170.00
500-525
$139.00-$142.00
550-550
$136.50-$136.50
675-675
$136.50-$136.50
930-930
$97.50-$97.50

Region 2
Sex
Weight Range
Price Range
Steers
525-525
$159.00-$159.00
580-585
$157.00-$173.00
640-640
$141.00-$141.00
650-650
$154.00-$154.00
720-720
$150.00-$151.00
775-775
$138.00-$138.00
820-825
$138.50-$140.00
Heifers
450-475
$157.00-$174.00
525-540
$145.00-$147.00
550-590
$134.50-$156.50
650-675
$139.00-$143.00
750-750
$135.00-$135.00
800-800
$130.00-$130.00
Holstein
325-325
$140.00-$140.00

Region 3
Sex
Weight Range
Price Range
Steers
390-390
$191.00-$191.00
400-420
$190.00-$196.00
450-485
$149.00-$174.50
500-535
$156.00-$168.00
565-580
$140.00-$165.50
600-640
$133.00-$155.00
655-690
$134.50-$145.00
715-730
$132.50-$144.00
750-775
$136.00-$143.00
800-845
$134.00-$141.50
850-860
$135.50-$141.50
Heifers
400-435
$140.00-$176.00
465-485
$146.00-$156.00
500-535
$140.00-$147.00
575-590
$133.00-$135.00
600-640
$126.00-$135.50
660-680
$130.00-$136.00
700-735
$128.00-$136.00
750-760
$123.00-$138.00
800-825
$122.50-$124.00
Holstein
300-300
$137.00-$137.00
350-375
$141.00-$148.00
400-400
$127.00-$127.00
620-620
$111.50-$111.50

Region 4
Sex
Weight Range
Price Range
Steers
540-540
$167.00-$167.00
575-575
$157.00-$164.00
600-600
$158.00-$158.00
695-695
$145.00-$145.00
750-765
$135.00-$141.00
800-835
$135.00-$146.00
850-875
$134.25-$143.00
Heifers
460-490
$150.00-$158.00
535-535
$149.00-$149.00
630-630
$134.00-$134.00
650-650
$140.00-$140.00
750-750
$133.00-$134.50
800-825
$128.00-$131.00

Region 5
Sex
Weight Range
Price Range
Steers
590-590
$139.75-$139.75
700-700
$129.50-$129.50
750-750
$133.00-$133.00
Heifers
460-460
$139.00-$139.00
660-660
$133.50-$133.50

Region 6
Sex
Weight Range
Price Range
Heifers
835-835
$114.00-$114.00